Learn How Hyundai Blue Link Can Help You in Harrisonburg, VA, and beyond!
Harrisonburg Hyundai in Harrisonburg, VA, is proud to offer our customers Hyundai Blue Link. The Enhanced Safety Features, Car Care features, and Drive Worry Free make up Blue Link, and give you peace of mind on the road. Read on to learn more.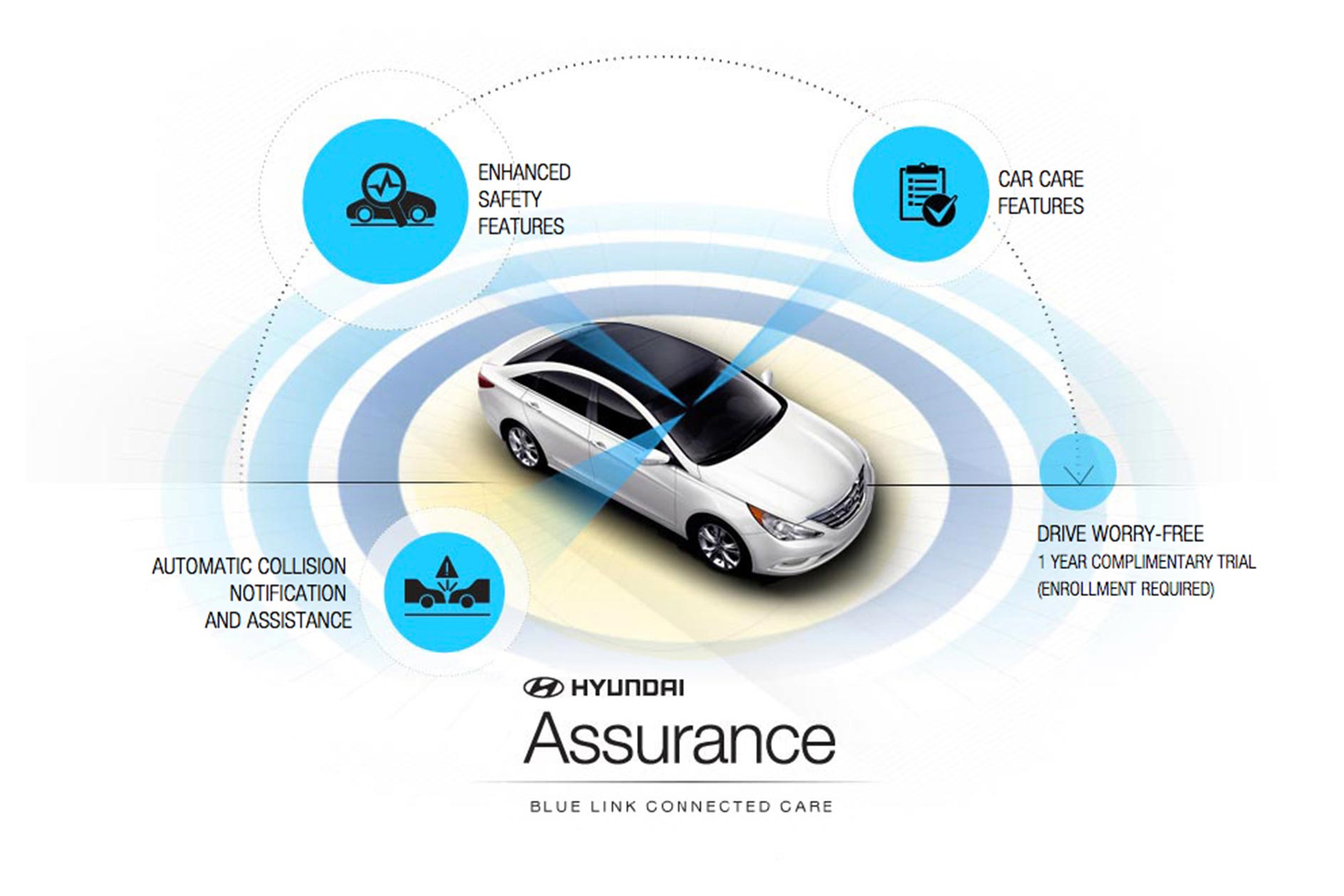 ENHANCED SAFETY FEATURES (FEATURES THAT CAN PUT YOU IN TOUCH WITH HELP IN AN INSTANT)
CAR CARE FEATURES (GET A MONTHLY VEHICLE HEALTH REPORT AND MORE)
DRIVE WORRY-FREE (1 YEAR COMPLIMENTARY TRIAL)
WHAT IS BLUE LINK®? (LEARN MORE)
WHAT IS CONNECTED CARE?1
Imagine a car that can help schedule an appointment when it needs care. Even call for help if you have an accident and let first responders know exactly where you are. These popular features, and more, are now included as a complimentary trial for one year (enrollment required) on most new Hyundai vehicles. See how Blue Link Connected Care will make the future of driving more carefree and safe.
COVERED VEHICLES
Standard on all new blue link-equipped Hyundai vehicles purchased or leased after May 15, 2013. Azera, Elantra GT, Genesis Coupe, Genesis, Santa Fe, Santa Fe Sport, Sonata, Sonata Hybrid and Veloster.
*3.8 Grand Touring and Track models; 2.0T Premium model
** 3.8 Tech Package and 5.0 R-Spec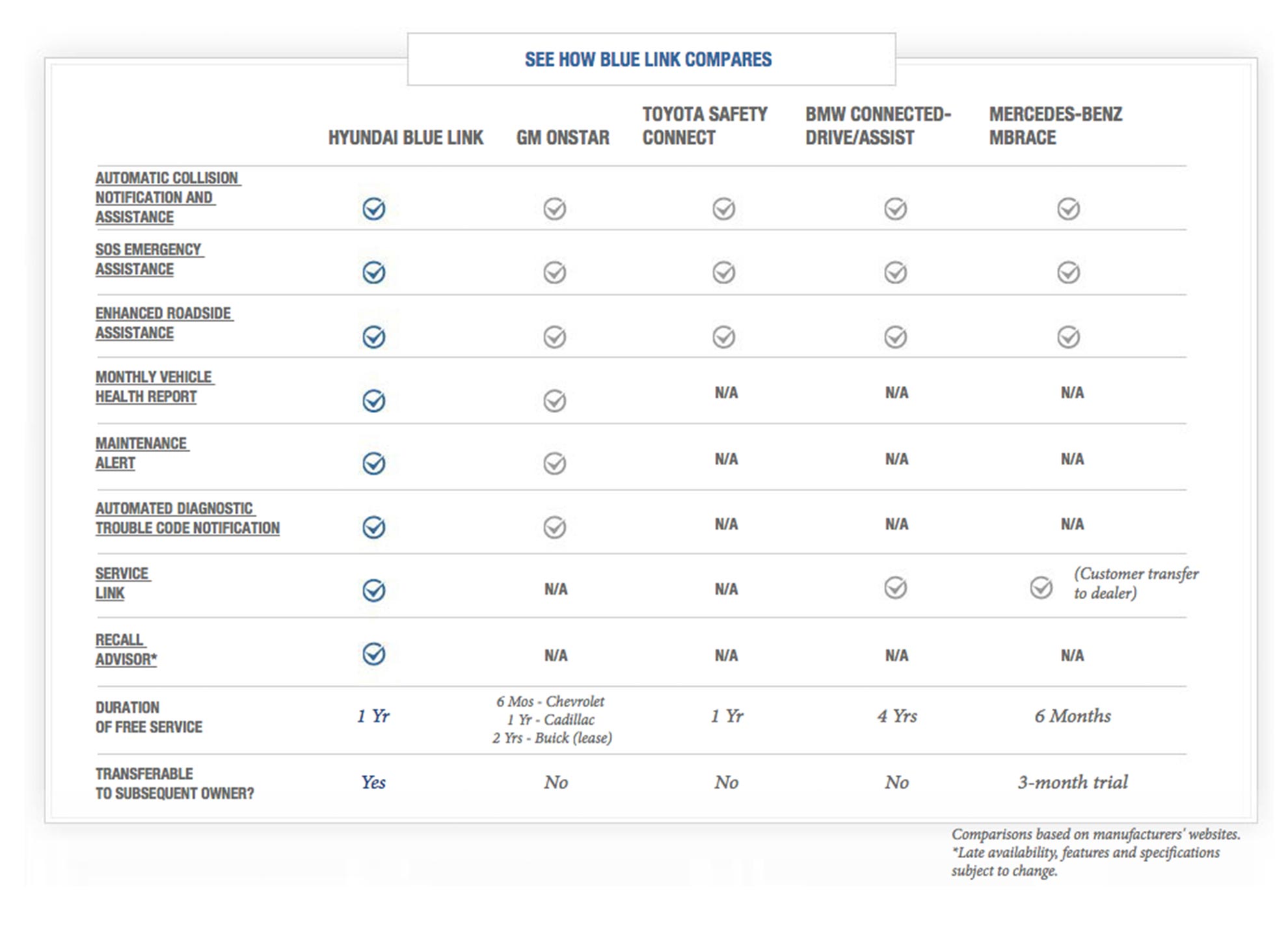 ENHANCED SAFETY FEATURES THAT PUT YOU IN TOUCH WITH HELP IN AN INSTANT
Automatic Collision Notification and Assistance
If an airbag is deployed, a signal containing owner vehicle and location information is immediately and automatically transmitted to the response center. Following this signal, an operator will attempt to establish voice communication with the vehicle occupants and forward information to emergency services.
SOS Emergency Assistance
The driver presses the dedicated SOS button in the vehicle, which sends vehicle information and location to specially trained operators who assist in coordinating the dispatch of appropriate emergency assistance.
Enhanced Roadside Assistance
With the single press of a button, drivers can contact Roadside Assistance, and their vehicle information and location are automatically transmitted to a response center for quicker, more efficient assistance.
CAR CARE FEATURES GET MONTHLY VEHICLE HEALTH REPORTS AND MORE
Maintenance Alert
Notifies the owner via MyHyundai.com, email, or SMS message that an upcoming service is due and explains what is included in particular maintenance intervals.*
* Late availability, features, and specifications subject to change.
Monthly Vehicle Health Report
On MyHyundai.com, owners can review the current health of their car and receive monthly reports of vehicle diagnostics.
Automated Diagnostic Trouble Code Notification
When owners receive a vehicle trouble code notification, this feature provides an explanation. Through a combination of in-vehicle display alerts and guided voice messages, the owner will learn what to do next. This information is automatically sent to the owner's preferred dealer to assist with the repair process.
Vehicle Web Diagnostics
Review the current health of your vehicle on MyHyundai.com.
Recall Advisor
In the event of a recall, Recall Advisor provides notification of recall campaigns via email, MyHyundai.com, and on the in-vehicle display.* * Late availability, features, and specifications subject to change.
Service Link
Use this feature to contact a Blue Link agent, schedule a service appointment, and describe what is needed. For non-maintenance service, a recording of your request and a diagnostic snapshot of your vehicle will be sent directly to your preferred dealer to help them prepare for your service visit. You may also elect to speak to a live operator standing by for additional owner support.
DRIVE WORRY-FREE 1 YEAR COMPLIMENTARY TRIAL
Many car companies offer advanced onboard systems that automatically connect you to help in the event of an accident or breakdown. Some systems can even make monitoring and servicing your vehicle easier. Hyundai provides these features at no additional charge for one year. Blue Link Connected Care, just one more innovative way Hyundai Assurance has you covered when it counts.
WHAT IS BLUE LINK®?2
It's Hyundai's innovative vehicle communications system that connects you to a variety of time-saving information and convenience features.
You can access Blue Link features via smartphone using the Blue Link mobile app, web application, or the in-vehicle system. As part of Hyundai Assurance, one year of the Blue Link Connected Care Package comes complimentary on select Hyundai vehicles and includes a comprehensive safety and car care package for peace of mind. The available Remote package adds a suite of convenient remote access and vehicle safeguard features, while the available Guidance package provides Turn-by-Turn Navigation, Destination Search powered by Google™, and more.
Disclaimers:
Blue Link Connected Care includes one year of the Blue Link Connected Care Package and requires an active Blue Link subscription. One-year term starts from the new vehicle date of first use and is available for new vehicle purchases and leases based upon terms and conditions on the Blue Link subscription enrollment pages. Only use Blue Link and corresponding devices when safe to do so. Cellular and GPS coverage is required. Blue Link is available on most new Hyundai vehicles. Features, specifications, and fees vary by subscription plan and are subject to change. For more on details and limitations, visit Hyundai.com or your authorized Hyundai dealer.
Only use Blue Link and corresponding devices when it is safe to do so. Blue Link is available on most 2013-2015 Hyundai Vehicles. Blue Link subscription service agreement required. Features vary by subscription plan. Blue Link service works using CDMA-based cellular networks in the 50 United States. Blue Link service is not available where there is no cellular coverage, particularly in enclosed or remote areas. Service availability may be affected by signal strength, foliage, weather, topographical conditions (mountains) and nearby structures (tall buildings, tunnels), and other factors. For additional details and system limitations, visit HyundaiBlueLink.com. Hyundai is a registered trademark of Hyundai Motor Company. All rights reserved. ©2014 Hyundai Motor America.