Meet The Affordable & Stylish Hyundai Accent
The Hyundai Accent is the budget-friendly yet stylish sedan that we know our Harrisonburg, VA friends will love. Check out the Accent at Harrisonburg Hyundai today.
Many of our customers want a new car, but they don't think they can afford them. What they don't realize is that we do have budget-friendly vehicles that won't break the bank. The bonus? They are stylish too. You don't have to compromise when you choose the Hyundai Accent. We welcome you to visit us at Harrisonburg Hyundai and see how much money you can save.
Budget-Friendly
We understand that many people that are shopping for a car may be on a tight budget. That could be because they recently graduated from college yet need a reliable vehicle to get to work, need a second family car, or maybe a teen driver needs a reliable ride. Whatever your situation is, the Hyundai Accent is budget-friendly. With a starting MSRP of just $14,745, it is one of the most affordable sedans on the market. This low price means a lower monthly payment that almost anyone can afford, so you keep more cash in your account.
Guess what? You will even save money at the pump because the Accent gets an EPA estimated 27 miles per gallon in the city and 37 miles per gallon on the highway. That means you can go further for less and stop less frequently to fill up too. Let us show you how much money the Accent can save you when you talk to one of our product specialists at Harrisonburg Hyundai today.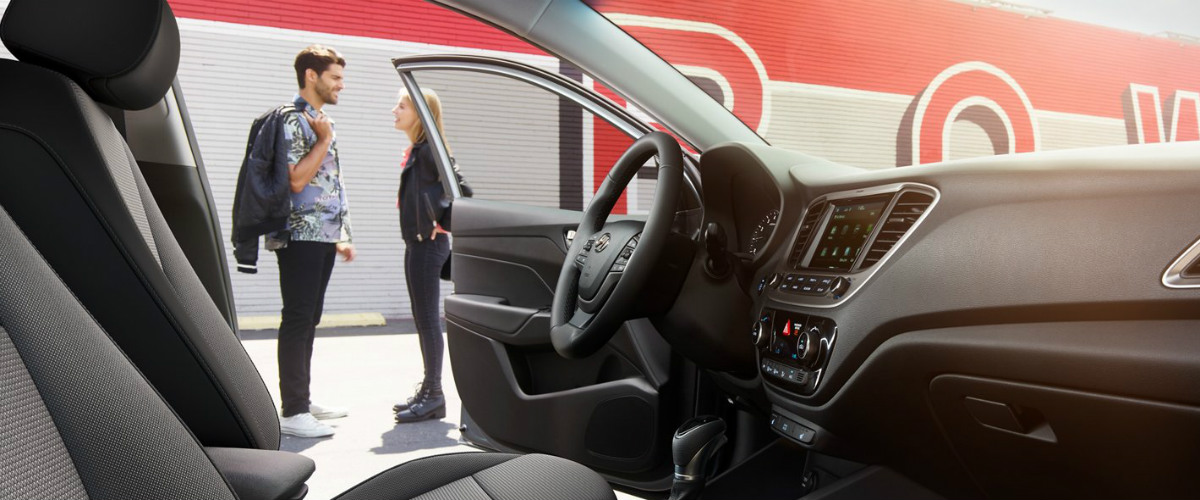 Comfort & Convenience
Just because you purchase a budget-friendly sedan doesn't mean you have to sacrifice your comfort and convenience features. The Hyundai Accent gives you more bang for your buck. You don't have to compromise features just because you want to save money. The Accent features steering wheel-mounted audio and cruise controls that put everything at the tips of your fingers so you won't have to take your eyes off of the road to find your favorite radio station.
The six-speaker audio system lets you pound out tunes from radio or SiriusXM Satellite Radio that offers over 150 channels of talk, news, sports, comedy, and music stations for hours of endless entertainment options while on the road. The Accent puts everything within your reach, so you won't have to stretch to adjust the dials. Let us show you the comfort and convenience features of the Accent at Harrisonburg Hyundai.
Safety Abounds
When you drive a smaller sedan, safety can be a top priority. There are so many distracted drivers on the road driving their gas-guzzling trucks and SUVs to watch out for that anything that makes you safe is helpful. The Hyundai Accent is one of the safest sedans in its class. The Accent features six airbags that surround you and acts as a cushion in case of an accident to lessen the collision's impact.
The Accent also has the Vehicle Stability Management System that has active safety features. These include the Motor-Driven Power Steering, Electronic Stability Control, and Traction Control System. This powerful combination of features keeps you stable as you drive down the road for a safer drive. It also comes with anti-lock brakes and Brake Assist to help you stop faster.
Harrisonburg Hyundai – The Home Of Buying Confidence
At Harrisonburg Hyundai, we put our customers first because we believe you matter. We want you to feel confident when you buy your Hyundai Accent from us. That is why we take all the time you need to help you feel comfortable about your decision. We proudly list all of the information you need to help you educate yourself about the vehicle you are shopping for in one convenient place to make it easier for you.
We have a team of professional, friendly, courteous, and knowledgeable people standing by to serve you and answer any questions you may have by phone, email, online, or in-person when you stop by and see us. Get started today by browsing our inventory, then come see us for a test drive.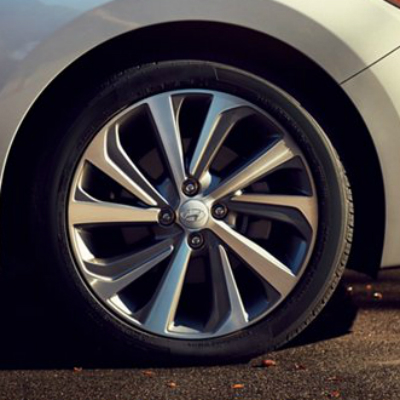 Get Much More in the Hyundai Accent
When you own a new Hyundai Accent, you're confident in every mile you spend behind the wheel; and because you know the quality and reliability of Hyundai, you know that means many, many miles. That confidence in what comes under the hood is matched with the confidence you need in the safety of you and your passengers. Ask the dedicated Harrisonburg Hyundai team of pros about the Hyundai Accent to see how the your favorite model goes above and beyond to keep you safe.