Dare To Drive Better – The All-New Hyundai Elantra
The Hyundai Elantra is an affordable and stylish sedan packed with premium amenities in Charlottesville, VA. It's time to bring some fun to your drive..
Any driver searching for the perfect stylish sedan with top-notch technology and advanced safety features should consider the Hyundai Elantra among their choice. A daily driver packed with enjoyment, the Hyundai Elantra is a sedan that's perfect for the whole family. The luxurious interior and exterior style matched with a powerful engine create a vehicle you have to see to believe. Come see the Hyundai Elantra when you visit our dedicated sales staff at Harrisonburg Hyundai, and let us walk you through why this is the perfect vehicle for you.
Unrivaled Comfort
The average American driver travels about 31.5 miles a day in their vehicle. That's a lot of time stuck on the highway or zipping along back roads, and its adds up faster than you realize. If we spend so much time in our cars, shouldn't we be comfortable while we do it? The Hyundai Elantra aims to bring maximum comfort with heated rear and front seats to warm of cold nights, and a power sunroof to bring some Vitamin D to your commute on the warmer days.
The 6-way power adjustable driver's seat with lumbar support gives you the posture you need and you can even save your favorite position with the Integrated Memory System. Feel the Elantra's superior comfort when you see it in person at Harrisonburg Hyundai today.

Tech Savvy
Not only does the average American spend a bunch of time driving, but we spend even more looking at our cell phones and computer screens. In fact, it totals up to an average 10 hours combined screen time per day! With the increasing demand to constantly be interconnected, the Hyundai Elantra has risen to the top of the pack for tech options.
Android Auto and Apple CarPlay give you control of the cabin by allowing you to send and receive text messages, respond to Facebook messages, get directions, stream music, and more all with the sound of your voice using Bluetooth technology. There are also options for integrated navigation, giving you real-time traffic updates and 3D maps as well. Let one of our technicians at Harrisonburg Hyundai walk you through the stand out features of the Hyundai Elantra or call to get answers to any questions you may have.
Smart Safety
More important than cutting edge tech and unparalleled comfort, safety is the ultimate measure of any vehicle. The Hyundai Elantra offers smart safety options with advanced accident avoidance technology including Automatic Emergency Braking with Pedestrian Detection. Using both a camera and radar-sensing, the system monitors for an imminent crash or oncoming pedestrian and activates Automatic Emergency Braking given the incident that the driver is unable to respond in time. The Hyundai Elantra also offers Blind Spot Detection with Rear Cross Traffic Alert to keep you safe from unseen dangers.
Your family can ride easy knowing that your Elantra will alert you in the case that you attempt to change lanes while a vehicle is in your Blind Spot. To see a full list of safety features and discuss your options, come on down to Harrisonburg Hyundai today and talk to one of our compassionate sales associates.
Discover The Unmatched Selection At Harrisonburg Hyundai TODAY!
We believe that you deserve a wide array of vehicles to choose from here at Harrisonburg Hyundai. Whether you're shopping specifically for a Hyundai Elantra, or you're looking to see a few models across the Hyundai lineup, we have a compassionate sales associate to help you.
We strive to keep an unrivaled selection of the Hyundai Elantra on our lot, so you can find one that's the perfect color, budget and contains the features you desire. Get started by browsing through our diverse selection of Elantra models either online or in person, then let our unparalleled sales team take you for a test drive today.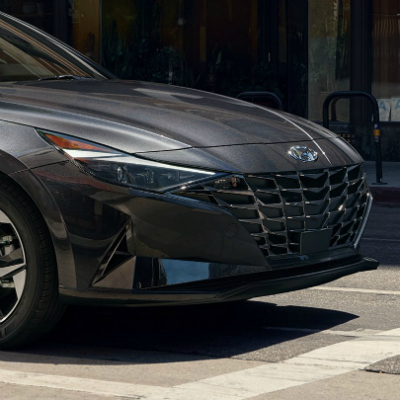 Get Much More in the Hyundai Elantra
When you own a new Hyundai Elantra, you're confident in every mile you spend behind the wheel; and because you know the quality and reliability of Hyundai, you know that means many, many miles. That confidence in what comes under the hood is matched with the confidence you need in the safety of you and your passengers. Ask the dedicated Harrisonburg Hyundai team of pros about the Hyundai Elantra to see how the your favorite model goes above and beyond to keep you safe.