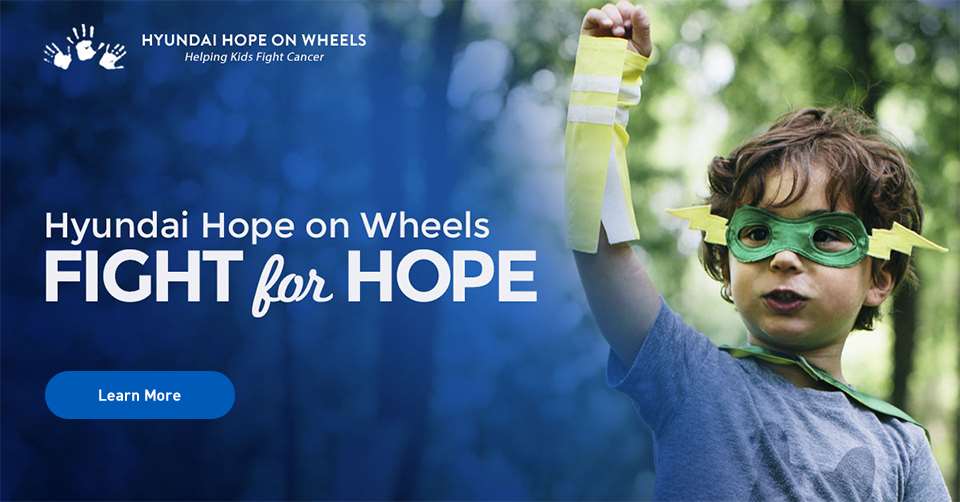 EVERY HANDPRINT TELLS A STORY.
In 1998, Hyundai and a group of New England-area dealers joined the fight against pediatric cancer by supporting a local initiative to support the Jimmy Fund at the Dana-Farber Cancer Institute. This activity quickly grew nationwide and soon became Hyundai Hope On Wheels (HHOW). HHOW is a 501(c)(3) nonprofit organization that is committed to helping kids fight cancer. The goals of the organization are to fund research and to create awareness for childhood cancer. Hyundai Motor America and its more than 830 dealers and customers support the cause with a donation from every new vehicle sold. In 2017, HHOW surpassed $130 million in lifetime donations to pediatric cancer research in the United States.
Why Pediatric Cancer?
Hyundai and its dealers are committed to Better products, Better service, and a Better society. Through acts of better, we donate to charitable efforts in order to benefit society. Kids are the future, and they deserve every opportunity to grow, play and learn in a world free of pediatric cancer. Every 36 minutes, a child is diagnosed with the disease in the U.S. Despite advancements in research, one in five diagnosed will not survive. Pediatric cancer is the leading disease and cause of death for U.S. children. At HHOW, our goal is to fund pediatric cancer research, drive innovative research, and create new discoveries that increase the survival rates of those with the disease.
Why Does Funding Research Matter?
As recent as the 1950s, a diagnosis of pediatric cancer has an almost always certain outcome, and very few children survived. Due to advancements in technology, improvements in data analysis, and research collaboration, today, nearly 80% of pediatric cancers can be cured. The survival rate, while good, does not tell the entire story. Many forms of pediatric cancer remain high risk for children and have shown little progress. And the harmful side effect for far too many kids takes a severe toll on their bodies. The goal of the research is to improve cures and to improve care for children diagnosed with the disease.
You may be shocked to discover that less than 4% of federal research funding for cancer is designated for pediatrics. Without necessary funding, potentially life-saving research and new treatment therapies will go undone. We believe that these young childhood cancer fighters deserve a chance, and HHOW is funding research in pursuit of a cure.
Why HHOW Research Grants?
HHOW has quickly become recognized as a leader in the funding of pediatric cancer research in the U.S. More than 780 grants have been awarded over the past 19 years. In fact, there are over 280 HHOW research projects currently underway. For 2017, we will announce an additional 68 pediatric cancer research grants. A HHOW research grant is awarded to an institution that is a member of the Children's Oncology Group of America (COG), and the doctor-researcher within these institutions is doing research in pediatric oncology, which has a translational benefit to patients. Grant applicants are invited to submit a research proposal once a year. These proposals are peer-reviewed by a scientific panel, and funded grants are selected based on their innovation to the field and ability to have the greatest impact on improving cures. There are 4 HHOW grant categories:
1. The Hyundai Impact Award ($50,000): a one-year grant awarded to the pediatric cancer oncology department at children's hospitals in the U.S. Funds may be used to provide programmatic support or clinician for patient care at the center.
2. The Young Investigator Grant ($150,000): a two-year grant, which is peer-reviewed and competitively selected. The grant supports the work of a pediatric oncologist, who is within his/her first seven years of practice at an academic institution and is doing translational research.
3. The Hyundai Scholar Hope Grant ($250,000): a two-year grant, which is peer-reviewed and competitively selected. The grant supports the work of a pediatric oncologist, who is an MD physician-researcher at any level of his/her career at any COG member institution and is doing translational research.
4. The Hyundai Quantum Award ($1 million): a four-year grant, which is for a peer-reviewed and competitively selected. This grant is awarded to a pediatric oncologist, who is an MD physician-researcher, for advanced research projects that focus on high-risk pediatric cancers with low survival rates.
Why handprints?
Each year HHOW visits children's hospitals across the U.S. to donate funds and raise awareness. During the event, we host our signature "Handprint Ceremony," which captures each child's handprint in paint. These handprints are placed on Hyundai cars that travel across the country to build colorful awareness of the program.
Because there is nothing more personal than a handprint, each is distinctive in its own way. Whether it's completing a round of chemo, celebrating a beautiful new head of hair, or receiving a clean bill of health, one child's milestone can be another's symbol of hope. And these handprints serve as our symbol.
Why do we fight to End Childhood Cancer?
It's all about the kids. No child ever deserves to hear the words 'you have cancer.' HHOW is dedicated to supporting pediatric cancer research that finds innovative approaches, creates discovery, and improves care for children fight cancer. Working together with the physician-research community, we seek to find a day when no child loses his/her fight with cancer again.
In 2017, Hyundai Hope On Wheels will reach $130 million in donations to pediatric cancer research. In the years to come, we will continue to award additional grant dollars and create greater awareness for the disease. And, we invite you to join our journey and help spread the word through your direct participation, personal involvement, and social media activities to increase awareness.