Go More Places In The All-New Hyundai Santa Fe
The Hyundai Santa Fe is the SUV that is ready to take you more places around Charlottesville, VA. Test-drive the Santa Fe at Harrisonburg Hyundai today.
When you want adventure in your life, and you want to be able to take off at the spur of the moment and enjoy being spontaneous again, then you need a car that can get you there. The Hyundai Santa Fe is the SUV that can take you wherever you want to go with ease and gives you the features you want for your drive ahead. Check out the Santa Fe at Harrisonburg Hyundai.
Safety First, Always
The last thing anyone wants when they head out for an adventure on the road is a preventable accident. The Hyundai Santa Fe gives you the smart safety features you want to help keep you safe and avoid an accident on the road. When you are in busy metropolitan areas, you probably notice pedestrians who have headphones and their heads focused on their phones. They can take you by surprise, and this is where the Automatic Emergency Braking with Pedestrian Detection has your back to help you stop fast.
There is also the Lane Departure Warning that will monitor your lane and alert you when you leave it so you can make the necessary steering corrections to avoid hitting another vehicle. These are just a couple of safety features available on the Santa Fe. Talk to the Harrisonburg Hyundai product specialists for more information today.
Comfort Abounds
Comfort and Convenience - it is what everyone wants, especially in their vehicle. After all, we spend a great deal of time commuting in our cars, trucks, and SUVs, so why shouldn't we have features that pamper us? The Hyundai Santa Fe is packed with amenities that will make you enjoy driving again. From the moment you place yourself inside the Santa Fe, you will feel the comfort of the plush leather seats that surround and support you at every turn.
The heated and ventilated seats add another layer of comfort for the long drive ahead that lets you control the temperature inside, no matter what the weather outside may bring. There is even a heated steering wheel to help you warm your hands up quickly. When you crave the outside, the Santa Fe features a panoramic sunroof that opens wide for fresh air and vitamin D, too. See these features and more at Harrisonburg Hyundai.
Stay In Touch
Who likes to be in the dark? Not you! You need the ability to stay connected on the go to be informed of what is most important. If you have kids or work outside of the home, this need increases. The Hyundai Santa Fe features Android Auto and Apple CarPlay that allows you to use the sound of your voice to command the cabin. Now you can make a phone call to the kids to see if they need a ride home from practice after school and send a text message to Dad to ask him to pick up milk on his way home.
You can then get directions to the nearest gas station on your way to the sports event, schedule your hair appointment in your calendar, and stream your favorite tunes on the go. It has never been more convenient to accomplish more than in your Santa Fe. Our tech experts are standing by to give you a demo of these features and more at Harrisonburg Hyundai today.
Harrisonburg Hyundai - It's Better Here
At Harrisonburg Hyundai, we pride ourselves on our excellent customer service. We will go the extra mile to ensure you are completely satisfied with your experience at our store, both online and in person. We offer you a great selection of vehicles to choose from, including the Hyundai Santa Fe.
We are here to help guide you through the process and answer your questions along the way by phone, online, and in-person, which of course, is our personal favorite because we love to meet our customers and really get to know them so we can understand their needs. Get started today, and then come see us for a test drive.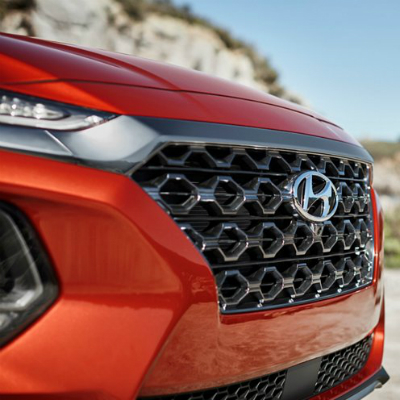 Get Much More in the Hyundai Santa Fe
When you own a new Hyundai Santa Fe, you're confident in every mile you spend behind the wheel; and because you know the quality and reliability of Hyundai, you know that means many, many miles. That confidence in what comes under the hood is matched with the confidence you need in the safety of you and your passengers. Ask the dedicated Harrisonburg Hyundai team of pros about the Hyundai Santa Fe to see how the your favorite model goes above and beyond to keep you safe.