Designed With Your Family In Mind
There's no better mid-sized SUV for families in Elkton, VA, than the new Hyundai Santa Fe. Stop by Harrisonburg Hyundai today, and imagine how it looks in your garage.
The new Hyundai Santa Fe is known for its roomy cabin, comfortable interior, and versatile performance. You'll enjoy more standard features than any other SUV in its class. Take a look at all three of its eye-popping trim levels and upgrade options to ensure you get the vehicle of your dreams.
When you finally get tired of squeezing your family into your current car, stop by Harrisonburg Hyundai to explore the new Hyundai Santa Fe. As a family-owned and operated dealership, we're no stranger to helping drivers find the best-fit car for their needs and budget.
Blaze Any Trail
Once you decide on a Hyundai Santa Fe, the only thing left to determine is which engine you want. The standard option is a powerful 2.4-liter four-cylinder engine that produces 185 horsepower and 178 lb-ft of torque. With an all-new suspension and updated brakes, the Santa Fe provides perfect handling on every trip.
If you decide to treat yourself with the Limited Trim or the Convenience or Premium upgrade packages, you'll get to show off a 2.0-liter engine that willingly gives 235 horsepower and 260 lb-ft of torque. With muscle like this at your disposal, nothing can stand in your way.
While reading about the performance-based Santa Fe is excellent, nothing beats experiencing it first-hand. Schedule a test drive today.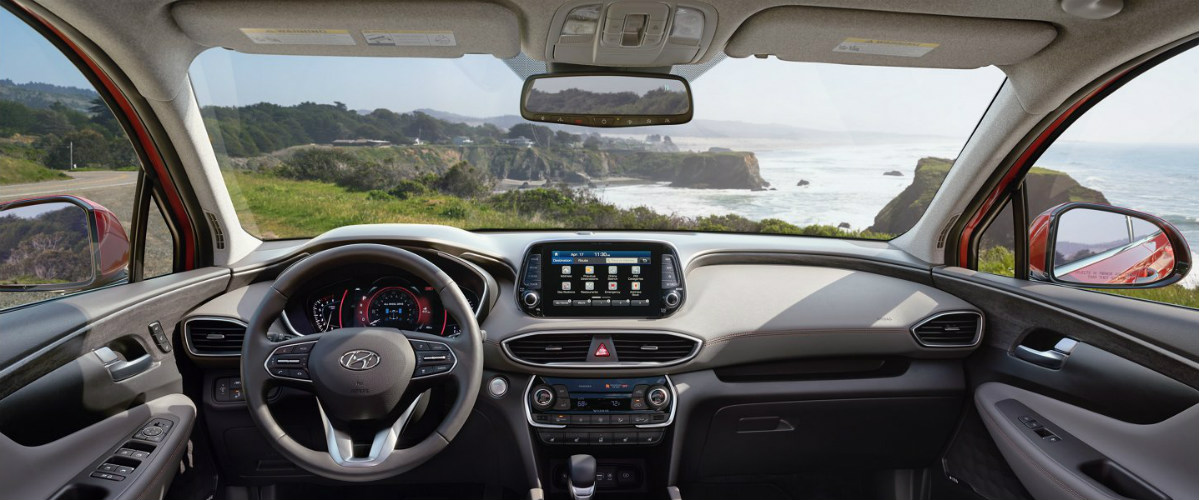 Modern Comfort
Hyundai wanted to make sure that every commute, school drop off, and errand run to keep you as comfortable as possible. That's why they made sure to include tons of interior space. It's also worth exploring the upgraded sound system that features Clari-Fi Music Restoration. You may decide to take the scenic route home.
While you're making travel plans, don't forget the massive cargo area inside of the Hyundai Santa Fe. Thanks to the push-button 60/40 split rear seats and automatic liftgate, you can load and unload your SUV in record time.
Loaded With Your Favorite Tech
Hyundai made sure to include more of the features you want, including some you didn't know you wanted. Check out the 360-degree view of your Santa Fe, thanks to the strategically placed cameras. Additionally, multiple sensors help make backing up a breeze.
Thanks to Hyundai's Blue Link Connected Car service, you'll be able to control various features from your smartphone. Need to remote start or unlock your doors? Done. You can even keep track of your maintenance records. While your phone is connected, play your favorite music and more via Apple CarPlay or Android Auto.
We Stand For Our Military
At Harrisonburg Hyundai, we like to honor our valued members of the military with 10% off of service parts and labor. We also match Hyundai USA's military incentive all year round. Even if you're not in the military, we offer a lifetime warranty with state inspections for life. Check out our website or make a trip to our showroom to learn more.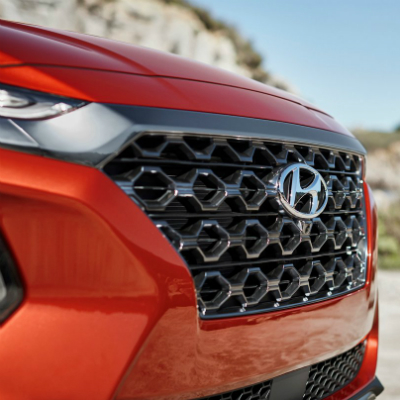 Get Much More in the Hyundai Santa Fe
When you own a new Hyundai Santa Fe, you're confident in every mile you spend behind the wheel; and because you know the quality and reliability of Hyundai, you know that means many, many miles. That confidence in what comes under the hood is matched with the confidence you need in the safety of you and your passengers. Ask the dedicated Harrisonburg Hyundai team of pros about the Hyundai Santa Fe to see how the your favorite model goes above and beyond to keep you safe.