Get Adventure-Ready In The Hyundai Santa Fe XL
The Hyundai Santa Fe XL is ready to take you on your big adventure in or out of Harrisonburg, VA. Stop by Harrisonburg Hyundai and see the used Santa Fe XL today.
When you are ready to pack on and take off on an adventure, how will you get there? Does your current mode of transportation accommodate your adventurous lifestyle? Can it take on your everyday driving needs too? When you choose the used Hyundai Santa Fe XL, you get a vehicle that can take you everywhere you need to go. Take a test drive at Harrisonburg Hyundai.
Versatility For Your Family
Whether you are heading to work or taking off for a day on the road, you need a versatile and roomy vehicle for anything that comes your way. The used Hyundai Santa Fe XL is the vehicle that has you covered for any situation that may arise. Passengers? Cargo? You decide in your Santa Fe XL. Seat up to five passengers with legroom for all in your Santa Fe XL, or load up maximum cargo when you lower the back seats to the flat-folding position for large items. You can also carry a combination of both with ease.
When you want fresh air and sunshine, open the dual-pane panoramic sunroof and feel the warmth as you breathe in the countryside. If you get a bit too hot or even too cold, the Santa Fe XL's heated and ventilated seats that engage with a push of the button for the perfect temperature every time. Stop by Harrisonburg Hyundai and see how versatile the Santa Fe XL is in person.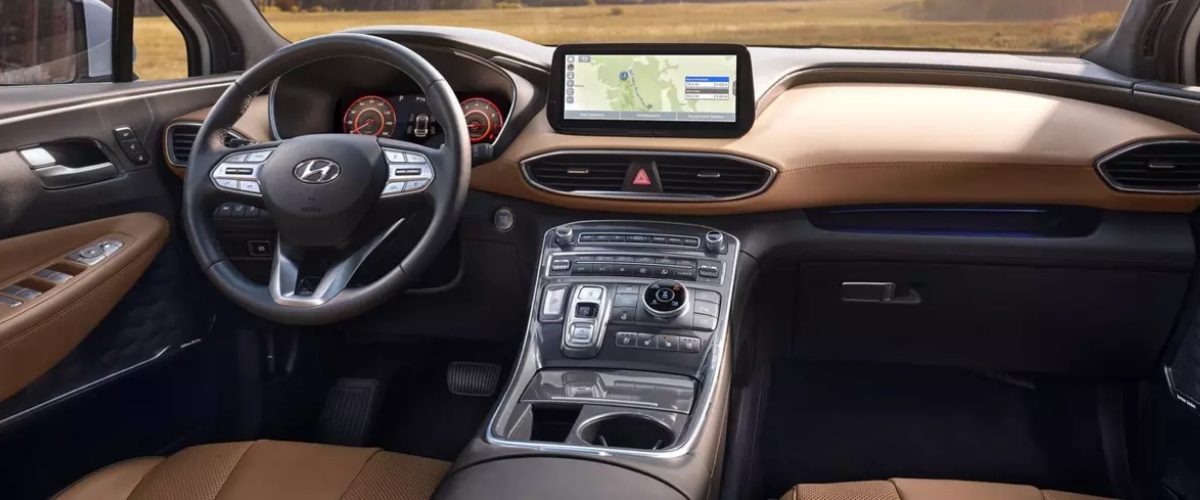 Safety That You Need
As hard as we try to keep our loved ones safe, it never seems to be enough. What if we told you that there is a vehicle that can give you a leg up in the safety department? What if we told you that vehicle is the Hyundai Santa Fe XL? That's right, and it is filled with preventative safety features that help keep you and your loved ones a little safer while on the go.
The Santa Fe XL features Blind Spot Detection with Rear Cross-Traffic Alert. This feature monitors your blind spots and will make an audible alert when someone is in your path both on the side and your crosshairs while in reverse. You will know when it is safe to proceed. It also offers a Lane Departure Warning that notifies you when you cross out of your lane without your turn signal on so you can make the necessary corrections. Automatic Braking senses when pedestrians are in your path and hit the brakes for you. For more information on safety features, visit our product specialists at Harrisonburg Hyundai.
Smart Technology For Everyone
Who has time to struggle with a vehicle that doesn't put them first? Not you! The Hyundai Santa Fe XL was designed for busy people like you in mind. It puts you first and makes driving easier for everyone. Imagine if your headlights behaved like magic. With the Santa Fe XL, they are! The Santa Fe XL features Dynamic Bending Headlights that turn with your steering wheel for a clear view around every corner. It even has High Beam Assist that switches on and off for you, so you don't have to fumble for the lights as you drive down that windy road.
Smart Cruise Control with Start/Stop takes the hassle out of your drive. It will come to a full stop if necessary and start back up by itself using radar technology to monitor speeds. The Multi-View Camera System gives you a 360-degree view of your Santa Fe XL, so you have a clear picture of what is going on around you. See these features and more at Harrisonburg Hyundai today.
Drive Your Santa Fe XL Home Today From Harrisonburg Hyundai
Welcome to Harrisonburg Hyundai. We are so pleased that you have chosen us to purchase your next used Hyundai Santa Fe XL home. It is a great honor, and we appreciate you. We welcome you to browse our inventory online from the comfort and convenience of your home or in person at our dealership.
If you prefer to save time, you can accomplish various things on our website, like getting pre-approved for financing, getting your trade-in appraisal, calculating your payment, and more before you arrive. Of course, if you like to do things the old fashion way, we are here for you too. We look forward to helping you become the proud owner of your next used Santa Fe XL.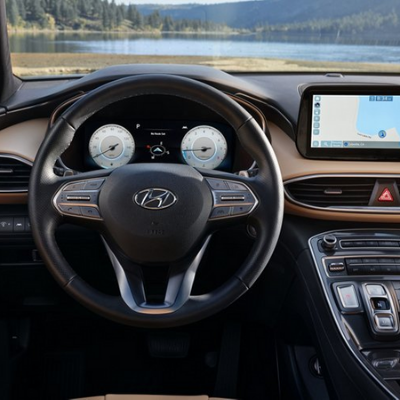 Get Much More in the Hyundai Santa Fe XL
When you own a used Hyundai Santa Fe XL, you're confident in every mile you spend behind the wheel; and because you know the quality and reliability of Hyundai, you know that means many, many miles. That confidence in what comes under the hood is matched with the confidence you need in the safety of you and your passengers. Ask the dedicated Harrisonburg Hyundai team of pros about the used Hyundai Santa Fe XL to see how the your favorite model goes above and beyond to keep you safe.