Get Ready For A Fun Ride In The All-New Hyundai Sonata
The spacious, fuel-efficient, and fun-to-drive Hyundai Sonata is the perfect family-friendly and eco-friendly sedan in Charlottesville, VA.
Stop into the Harrisonburg Hyundai showroom today and explore the incredibly well made and affordable Hyundai Sonata. It won't take you long to see what all the fuss is about. This is the total package sedan you've been waiting for.
Hybrid Options For Those Who Like To Save At The Pump
Today's modern family is aware of their ecological footprint. While the standard non-hybrid Sonata in the Eco trim is fuel-efficient and comes packed with a powerful 178-hp turbocharged 1.6-liter inline-four and seven-speed dual-clutch automatic engine, the real standout for your earth-friendly family comes with the Sonata's Hybrid options.
The Sonata plug-in-hybrid pairs a 2.0-liter Atkinson-cycle four-cylinder with an electric motor and a six-speed automatic transmission. This produces an engine with a combined 202 horses, thanks to a more powerful electric motor. The EPA states that the Sonata's plug-in hybrid engine can travel up to 27 miles on electricity alone due to its 9.8-kWh battery pack.
Unparalleled Safety Options
Every parent wants to keep their children as safe as they possibly can. The Hyundai Sonata is engineered with this core goal in mind and offers unrivaled safety features to keep your entire family healthy and happy. First, the Automatic Emergency Braking system uses both a camera and a radar sensor to determine if a crash is imminent. If the driver does not respond to a collision threat, the system will deploy Automatic Emergency Braking.
Next, the offering of Blind Spot Detection with Rear Cross-Traffic Alert and Lane Change Assist keeps an eye on the road for you, monitoring your Blind Spot and alerting you to cars passing the rear end of your vehicle if you attempt to change lanes. Keeping your family safe has never been easier with the Hyundai Sonata on your side. Come on down to Harrisonburg Hyundai today to let our compassionate associates show you all the advanced safety features of the Hyundai line up today!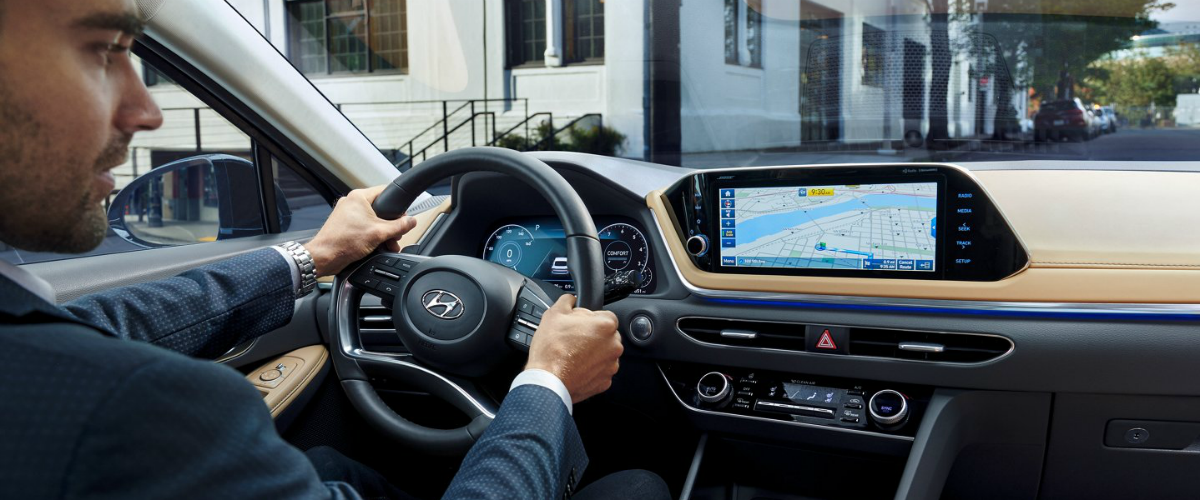 Tech You Will Love
If you're hoping to keep your family safe, the Hyundai Sonata has you covered for every turn in the road. This sedan boasts top-notch tech available, including Dynamic Bending Light headlights, which aim the light into the turns in the street, illuminating the path to safety.
But you don't have to sacrifice safety for entertainment or comfort with the Hyundai Sonata. The base Sonata model comes with a standard 7-inch touchscreen infotainment system, including Apple CarPlay and Android Auto, giving you total control of the cabin with ease. Let one of our dedicated technicians show you all Hyundai Sonata's safety features today at Harrisonburg Hyundai.
Comfort For The Whole Family
No family deserves to sacrifice comfort for style, and the Hyundai Sonata will not let you down. The front and rear seats both offer reliable support with ergonomic cushions designed for a smooth ride. The entire interior is designed to provide maximum headroom and legroom for every member of your family.
Finally, the final touch comes in the Hyundai Sonata's excellent suspension that soaks up road imperfections with ease, leaving you with a whisper-quiet cabin for the kids to doze off in. Let one of our dedicated sales at Harrisonburg Hyundai associates show you why the comfortable and stylish Sonata is perfect for your family today.
Harrisonburg Hyundai Is Here To Help
Whether you're shopping specifically for a Hyundai Sonata or interested in seeing the entire Hyundai lineup, Harrisonburg Hyundai is your destination. Our dedicated product specialists are trained to help you find a vehicle that suits your needs and fits your budget.
The knowledgeable, professional staff at Harrisonburg Hyundai listen to your needs and guide you on every step along the journey to becoming a happy Hyundai Sonata owner. We can't wait to show you this fantastic family-friendly sedan and impress you with our compassionate sales associates. Come on down to Harrisonburg Hyundai today!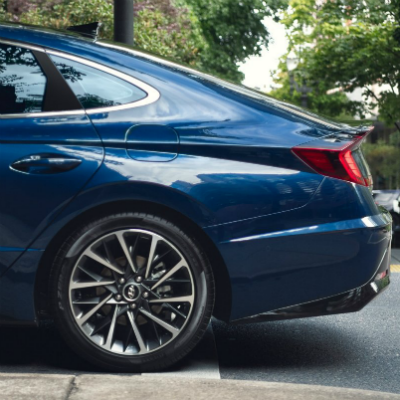 Get Much More in the Hyundai Sonata
When you own a new Hyundai Sonata, you're confident in every mile you spend behind the wheel; and because you know the quality and reliability of Hyundai, you know that means many, many miles. That confidence in what comes under the hood is matched with the confidence you need in the safety of you and your passengers. Ask the dedicated Harrisonburg Hyundai team of pros about the Hyundai Sonata to see how the your favorite model goes above and beyond to keep you safe.