Enjoy Your Commute In The All-New Hyundai Sonata
The Hyundai Sonata is the sedan that will make commuting your favorite part of the day in Staunton, VA. Take a test drive in the Sonata at Harrisonburg Hyundai today.
When life comes at you, and there is no joy in your daily drive, maybe you need to consider the vehicle that takes you there. Perhaps it is time to upgrade your ride. The Hyundai Sonata is the sedan that will make your daily commute seem like a vacation from it all. It may become your favorite part of the day. Let us give you a tour of the Sonata at Harrisonburg Hyundai.
Comfort & Convenience
If you spend any amount of time in your sedan, you don't want to feel like a sardine in a tin can. You want to stretch out and be comfortable. The Hyundai Sonata has you covered because it offers more interior space than any other vehicle in its class, so go ahead, stretch your legs and ride with comfort. The Sonata takes your comfort to the next level with heated and cooled seats that give you the perfect temperature no matter what the weather outside may bring. It also offers a heated steering wheel for another layer of comfort.
Use the power-adjustable seat to find your ultimate driving position. Set it and forget it thanks to the Integrated Memory System that remembers it for you, so you don't have to re-adjust your seat every time you enter your Sonata. It will even remember your exterior mirror position. The hands-free smart trunk makes loading your groceries more manageable than ever before. Let us show you the Sonata's comfort at Harrisonburg Hyundai.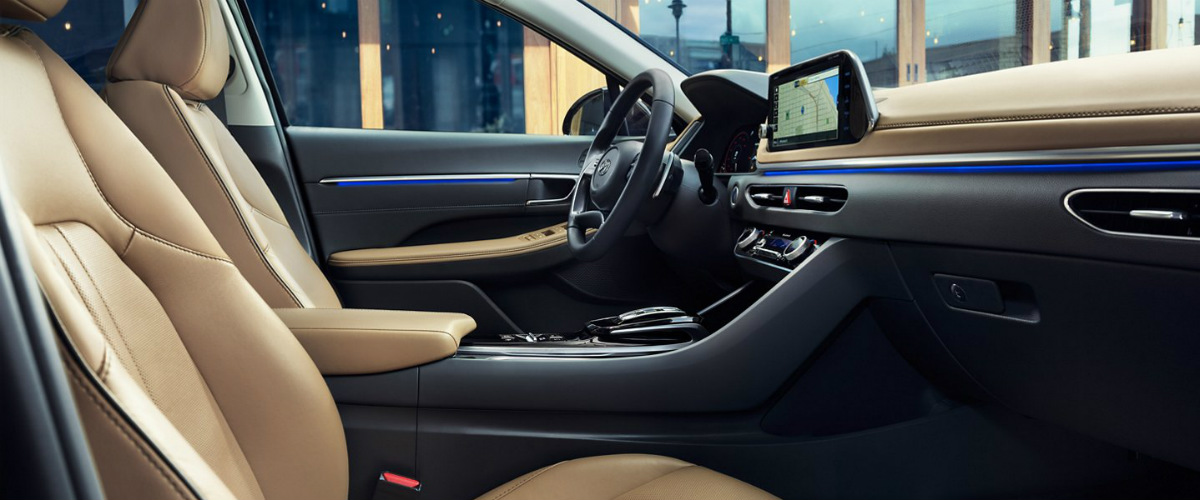 Smart Tech
We all love technology, especially when it improves our lifestyle. The same is true in our cars. We need smarter technology that makes driving more convenient and safe too. The Hyundai Sonata features intelligent technology that makes things a little less complicated. Take out your smartphone, download Android Auto or Apple CarPlay on your phone, and then connect it to your Sonata with your USB cord. Now Sonata takes over and displays your phone on-screen.
You can use your voice via Bluetooth and take command of the cabin to make and receive phone calls, send and receive text messages, get directions, stream your favorite music, and much more, all while keeping your eyes on the road and your hands on the wheel. The wireless charging pad makes keeping your smartphone powered up for your arrival easier than ever before. Even the back seat passengers can charge their phones with ease thanks to the back row USB ports. Come see the Sonata at Harrisonburg Hyundai today.
Safety For All
We have all become pretty accustomed to the standard safety features in every vehicle like airbags and antilock brakes, but times, they are changing. The Hyundai Sonata features accident avoidance technologies to keep you and your loved ones safe while on the go. If you have ever hesitated to change lanes or back out of a busy area, then you will love the Blind Spot Detection with Rear Cross-Traffic Alert that monitors your blind spots and will let you know if there is someone in your path so you know when you can proceed with caution.
The Lane Keep Assist helps drivers cross out of their lane by sounding an alert and steering you back into your lane if you do not react in time. There is also Automatic Emergency Braking with Pedestrian Detection for those times you need a little extra help stopping. Let our product specialists show you all of the Sonata's safety features at Harrisonburg Hyundai.
Discover The Diverse Selection At Harrisonburg Hyundai
Harrisonburg Hyundai is your destination for all things Hyundai, including the Hyundai Sonata. We have a great selection of Sonatas to choose from in various models featuring various colors and options, so you always have the best inventory to choose from. In fact, we have over a dozen in stock right now, so you won't have to go anywhere else to find the Sonata of your dreams.
Get started on our website by browsing our inventory and when you have found the Sonata of your dreams, come see us for a test drive. We look forward to meeting you and can't wait to earn your business.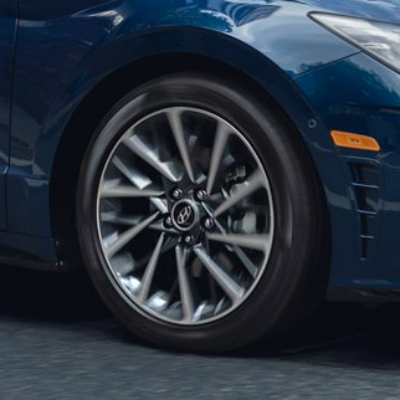 Get Much More in the Hyundai Sonata
When you own a new Hyundai Sonata, you're confident in every mile you spend behind the wheel; and because you know the quality and reliability of Hyundai, you know that means many, many miles. That confidence in what comes under the hood is matched with the confidence you need in the safety of you and your passengers. Ask the dedicated Harrisonburg Hyundai team of pros about the Hyundai Sonata to see how the your favorite model goes above and beyond to keep you safe.