Make A Fantastic First Impression In The New Hyundai Tucson
The Hyundai Tucson is a stylish and stunning SUV. If you want to make a great first impression in Harrisonburg, VA, arrive in a Tucson. Let us give you a tour of the Tucson at Harrisonburg Hyundai.
I think we can all agree that we want a vehicle that makes a statement. We want a car that looks cool and turns heads as we drive by. The Hyundai Tucson is the SUV you have been waiting for. Not only is it stylish, but it is also packed with features that make your drive ahead fun and more convenient. Stop by Harrisonburg Hyundai and see the Tucson today.
Make A Statement
The Hyundai Tucson is bold by design. It has an aggressive stance and daring front fascia. Its exterior features aerodynamic lines to give you better fuel efficiency and a stylish exterior. See spectacular views of the sky with the Panoramic Sunroof. Pull over in the dark and spot the big dipper or get all the vitamin D you could want during a warm sunny day. LED headlights also help to give the Tucson an adventurous appearance and light up the darkest nights so you can see clearly around every curve.
Position yourself perfectly with the 8-way power-adjustable driver's seat that gives you two memory positions so two drivers can share the Tucson without fighting over the seat. Are you tired of being too hot or too cold? Not in your Tucson because you control the temperature with heated and ventilated front seats. Let us help you start making a statement in your Tucson at Harrisonburg Hyundai.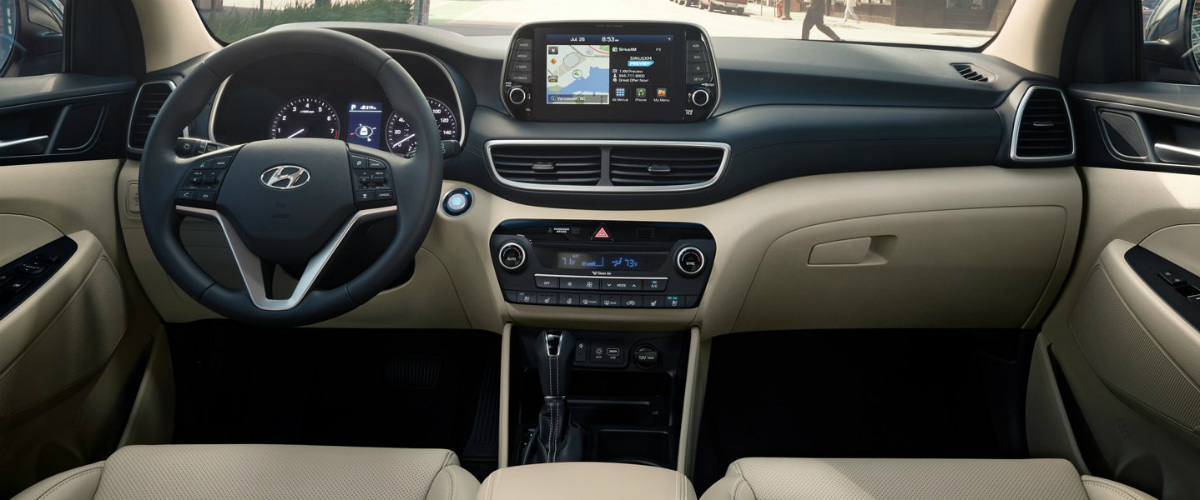 Simply Smarter
It is almost expected today that smart technology should be integrated into every part of our life. From our homes to the office, we want to be connected. The same is true for our vehicles, and the Hyundai Tucson does a great job with smart technology throughout the car. Reverse out of your driveway with a clear view, thanks to the Rearview Camera, and make sure the coast is clear.
Choose your entertainment from over 150 channels of talk, news, sports, comedy, and music stations on your SiriusXM Satellite Radio and never run out of listening enjoyment. Find your way with the Integrated Navigation and find the fastest route. You can also get real-time traffic updates, so you know if there has been an accident on your way to work. Let our tech experts give you a full demo when you stop by our store at Harrisonburg Hyundai Today.
Safety First
Say you are driving through a busy city and a distracted pedestrian pulls out in front of your car. What do you do? If you don't react in time, that pedestrian can be seriously injured or even die after being struck by a vehicle. When you choose the Hyundai Tucson, it offers Automatic Emergency Braking with Pedestrian Detection. It will detect the object for you and engage the brakes if you do not react in time. This feature can literally save lives. Can you live without it?
The Tucson has Lane Departure Warning that uses cameras to monitor your lane. If you cross out of your lane without turning on your turn signal, it will alert you so you can take quick corrective action to avoid a potential accident. Blind Spot Detection and Rear Cross-Traffic Alert are your second set of eyes that continuously monitor your blind areas around your Tucson. Talk to one of our associates at Harrisonburg Hyundai today about these life-saving features.
Meet Your Perfect Tucson Model At Harrisonburg Hyundai
At Harrisonburg Hyundai, we have your dream Hyundai Tucson waiting for you. Your perfect match is waiting on our lot for you to take it home. Select from a variety of models, options, and colors to find your soul mate. With over 30 to choose from, it is easy to find the Tucson for you.
Shop online by browsing our inventory or stop by in person and check them out on our showroom floor. From time to time, our Tucson SUVs go on sale and will be listed on our specials page, so be sure to check those out too. We are here for you in person, by phone, or online to answer any questions that may arise.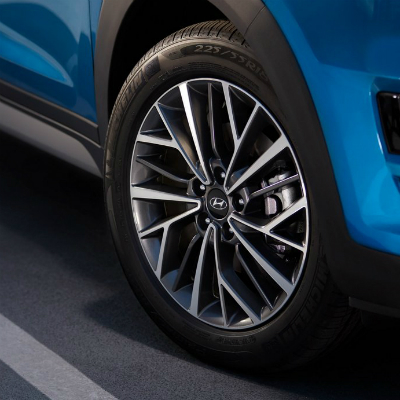 Get Much More in the Hyundai Tucson
When you own a new Hyundai Tucson, you're confident in every mile you spend behind the wheel; and because you know the quality and reliability of Hyundai, you know that means many, many miles. That confidence in what comes under the hood is matched with the confidence you need in the safety of you and your passengers. Ask the dedicated Harrisonburg Hyundai team of pros about the Hyundai Tucson to see how the your favorite model goes above and beyond to keep you safe.